You can take dryness to the next level with our dry carpet cleaning option.
While the majority of our clients in the Southport, North Carolina take advantage of our VLM (very low moisture) carpet cleaning services here at Green Steps Carpet Care, there are some who want to take it a step further and go with our dry carpet cleaning option. This technique is a 100% organic compound method with a moisture content equivalent to one teaspoon per square foot of carpeting. Many of the advantages of the dry carpet cleaning option are similar to our VLM carpet cleaning services, as neither one uses nearly as much water as traditional steam carpet cleaning.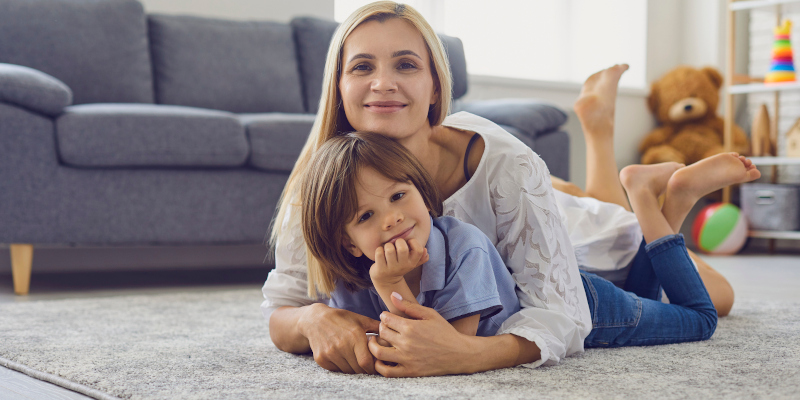 The Dry Carpet Cleaning Advantage:
Deep cleans and lifts/grooms matted pile in one step.
Never causes any over-wetting.
Leaves no wick back of spots, stains or dirty areas.
Works sponges into the carpet long enough to actually clean it.
Leaves no sticky residue to cause re-soiling.
Never leaves any wet carpet.
Allows you to walk on the carpet again immediately after cleaning.
Leaves no humidity from cleaning, so your HVAC system doesn't get a workout.
Eliminates the need for furniture protectors.
Removes mold, mildew, dust mites & allergens.
Causes no damage from shrinkage or split seams.
Does not lift pile.
The product we use is all natural and safe for people and pets, so there's no chemical irritation. It is safe & approved for all types of carpet and rugs, whereas steam cleaning cannot be used on oriental rugs, silk or wool rugs, or hand-loomed natural fiber rugs.
Discover the difference with VLM Carpet Cleaning
If you have any questions about our dry carpet cleaning option for your home or business, don't hesitate to reach out to us. We'll be happy to come to you and provide a quote for both our VLM and dry carpet cleaning options so that you can make an informed decision about how you want to proceed.
---
At Green Steps Carpet Care, we offer dry carpet cleaning services in Wilmington, Southport, Sunset Beach, Ocean Isle Beach, Carolina Beach, Holly Ridge, Leland, Hampstead, Sneads Ferry, Topsail Beach, Surf City, Figure Eight Island, Maple Hill, Supply, Shallotte, Calabash, Rocky Point, and Burgaw, North Carolina.
Similar Services We Offer: