We provide excellent results with our innovative VLM carpet cleaning method.
Up until now, you have generally had two less-than-desirable options when it comes to restoring the appearance and cleanliness of your residential or commercial carpeting. You could go through the arduous task of renting a steam machine at the store, or you could hire a steam carpet cleaning professional to do it. In both cases, you end up with sopping wet carpets that take up to 24 hours to dry. The resulting humidity may leave you with mold or mildew to deal with, as well as some adverse effects, such as split seams and carpet shrinkage. No thanks, right?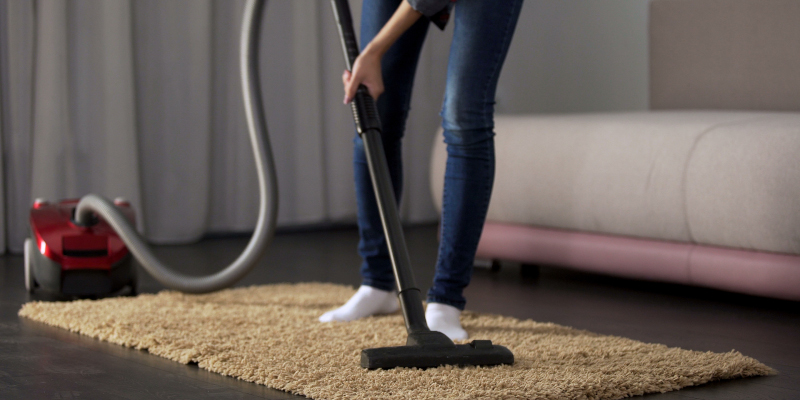 Now you have a better option! Call us at Green Steps Carpet Care, and we'll restore your carpets using our innovative VLM carpet cleaning method. VLM stands for very low moisture, which is quite accurate in that the typical 3-bedroom home with living room area requires only 2.5 gallons of water. With its low-moisture encapsulation technology, you end up with carpets that dry very quickly and without elevated humidity levels to contend with. There is no need for fans or dehumidifiers to speed the drying process, so there is no risk to your carpeting or disruption to your normal activities.
How is Dry Carpet Cleaning better?
Another reason to go with us for your carpet cleaning is so that you don't run the risk of voiding your carpeting warranty. Carpet manufacturers know that not keeping up with carpet cleaning shortens the life of the carpeting. They also know that rental machines are usually to blame for damaged carpet, rather than a manufacturing issue. If you put in a claim, it is likely to be denied if you've not used a professional.
If you would like to know more about our VLM carpet cleaning services for your home or business in the Wilmington, North Carolina area, give us a call to schedule a no-obligation consultation.
FAQs About VLM Carpet Cleaning Techniques
If you can't remember the last time you had your carpets professionally cleaned, you might be wondering if VLM carpet cleaning is the right option for you. Here at Green Steps Carpet Care, we get all kinds of questions about our carpet cleaning methods, which we've responded to below. Read on to discover everything you need to know about scheduling this kind of cleaning service.
How is VLM different from steam cleaning?
VLM stands for "very low moisture," which is in direct contrast with steam cleaning or HWE (hot water extraction) methods. Instead of soaking your carpets in hot water, which can potentially damage the material or cause mold to form, VLM methods are designed to dry much faster.
Can VLM cleaning get rid of stains?
In most cases, yes! VLM carpet cleaning methods use eco-friendly enzymes to help break up and lift stains out of your carpet. However, if your carpets are very old with stubborn stains, a more powerful cleaning solution might be needed.
Can you use VLM cleaning methods on commercial carpets?
Absolutely! In fact, VLM cleaning options are perfect for business owners who want to keep their carpets looking fresh and clean without worrying about the inconvenience of traditional steam cleaning techniques. With VLM methods, the carpet can dry on its own within a few hours, whereas HWE methods can require up to 24 hours to dry completely.
How is VLM more environmentally friendly than other carpet cleaning solutions?
Our VLM methods require just a small amount of water, use eco-friendly enzymes instead of harsh chemicals, and don't need to be dried using commercial vacuums or fans. In short, this method saves more water and electricity without any harmful cleaning chemicals.
---
At Green Steps Carpet Care, we offer VLM carpet cleaning services in Wilmington, Southport, Sunset Beach, Ocean Isle Beach, Carolina Beach, Holly Ridge, Leland, Hampstead, Sneads Ferry, Topsail Beach, Surf City, Figure Eight Island, Maple Hill, Supply, Shallotte, Calabash, Rocky Point, and Burgaw, North Carolina.
Similar Services We Offer: