Let us clean your carpet using eco-friendly products.
When it comes time to have your carpets professionally cleaned, you may be wondering how eco-friendly carpet cleaning works and whether or not it gets your carpets clean. At Green Steps Carpet Care, we use only Green Seal Certified and USDA bio-based certified products, which means our carpet cleaning solutions are free of harsh chemicals. Our process also uses very low moisture and nearly dry carpet cleaning methods that conserve water. We feel that it is important to take care of our planet and by saving water and using only sustainable cleaning products that meet green chemistry standards, we are helping to do just that.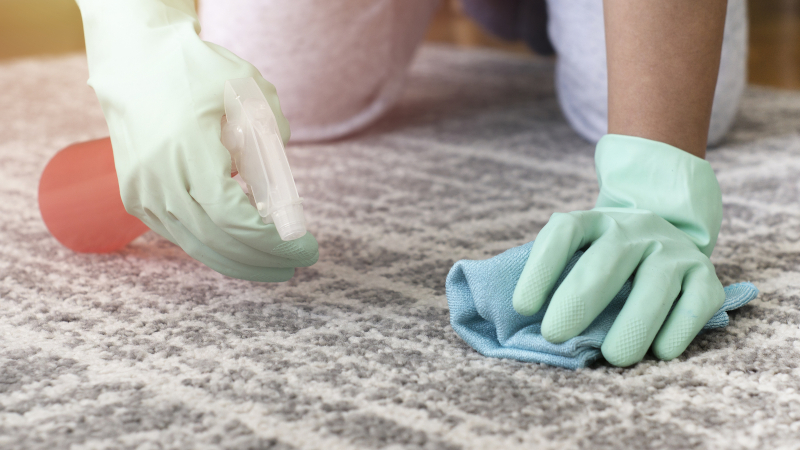 The typical carpet steaming process uses more than 6.5 gallons of water per 500 square feet of carpet and many customers have the perception that "wetter is better." Soaking the carpet using hot water and steam may eventually destroy the fibers and padding. It also leaves detergent residue behind which attracts more dirt and stains, requiring more frequent cleaning. Our very low moisture method uses only 2.5 gallons for an entire 3-bedroom home and living room and leaves almost no water behind.
Our highly trained technicians use state-of-the-art equipment, and our company prides itself on consistently delivering top-notch service in Wilmington, North Carolina. Our entire team is committed to providing you with an eco-friendly carpet cleaning solution with superior results and a short drying time. More than 80% of our business comes through referrals and repeat customers, and we would like the opportunity to prove how well our process can clean your carpets. If you are interested in eco-friendly carpet cleaning, please give us a call today!
FAQs About Eco-Friendly Carpet Cleaning
Here at Green Steps Carpet Care, we are proud to offer eco-friendly carpet cleaning services. If you have questions about these services, keep reading to get the answers you are looking for—of course, if we didn't cover your question below, don't hesitate to reach out to us directly.
How effective is eco-friendly carpet cleaning?
Our eco-friendly carpet cleaning services are just as effective as, if not more so than standard carpet cleaning services that use conventional products. Our team will use a combination of treatments to remove stains, get rid of trapped dirt particles, and neutralize odors to leave your carpet looking (and smelling) as good as new.
What are the benefits of eco-friendly carpet cleaning?
Our eco-friendly carpet cleaning services offer several advantages over traditional cleaning methods. First, our methods use less water—typically just 2.5 gallons for a three-bedroom home—which means your carpets will dry out faster. In addition, our low-moisture methods leave less detergent residue behind in your carpet fibers, which helps prevent further staining and dirt accumulation, keeping the carpet in better long-term condition.
Are eco-friendly carpet cleaning services more expensive than conventional options?
Our team offers affordable, competitive rates for our eco-friendly carpet cleaning services. In addition, because our methods will keep your carpets in better condition, they can actually save you money in the long term.
---
At Green Steps Carpet Care, we offer eco-friendly carpet cleaning services in Wilmington, Southport, Sunset Beach, Ocean Isle Beach, Carolina Beach, Holly Ridge, Leland, Hampstead, Sneads Ferry, Topsail Beach, Surf City, Figure Eight Island, Maple Hill, Supply, Shallotte, Calabash, Rocky Point, and Burgaw, North Carolina.