Let us clean your carpet using non-toxic cleaning products.
There are many carpet cleaning products on the market today and while they may do a good job of getting stains and odors out of your carpet, they may also bring toxins into your home. Many of these products promise a deep clean and instant freshness, but they also contain very harmful chemicals that can stay in the fibers of your carpet for a long time. These toxic chemicals can also leave a sticky residue behind, which attracts dirt and bacteria and causes your carpet to get dirty again in a short period of time.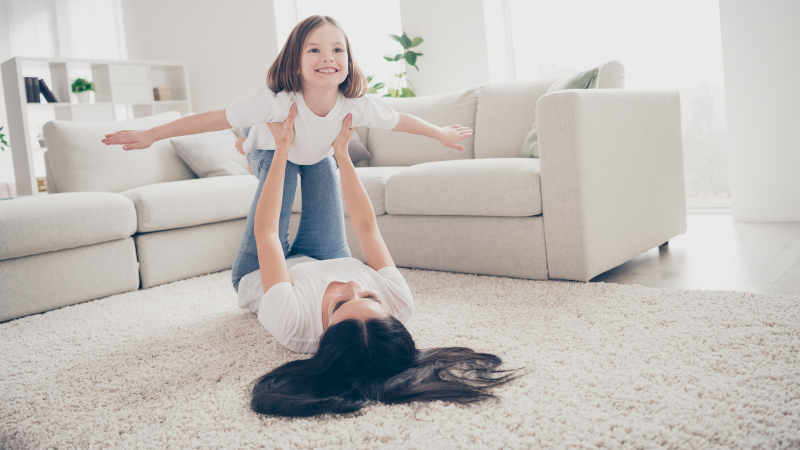 At Green Steps Carpet Care, we use only non-toxic carpet cleaning products, which are Green Seal Certified and USDA bio-based certified. This means our carpet cleaning solutions are free of harsh chemicals. We also use a very low moisture carpet cleaning method that is safe for your family and pets and dries in no time.
As a customer, you may worry about the results of your carpet cleaning. The cleaning process we use is designed to contain and absorb the dirt and doesn't leave behind residue. Unlike hot steam that can destroy your carpet fibers, cause shrinkage, or fade the color, our low moisture method of cleaning can actually extend the life of your carpet. It reduces the amount of mold and mildew growth by not creating the wet environment where it can grow. The non-toxic carpet cleaning product we use is all natural and safe for all types of carpet and rugs.
We guarantee all of our cleaning and if any spot we remove reappears within 30 days of cleaning, we will re-clean the spot free of charge. We pride ourselves in taking care of our Wilmington, North Carolina customers and will do whatever it takes to earn your trust. Our highly trained technicians use state-of-the-art equipment, and our company prides itself in delivering consistently superior service. More than 80% of our business comes through referrals and repeat customers, and we would like the opportunity to prove how well our process can clean your carpets. If you are interested in non-toxic carpet cleaning, please give us a call today!
FAQs About Non-Toxic Carpet Cleaning
At Green Steps Carpet Care, we have extensive experience in carpet cleaning, and we want to help you keep your carpets looking like new. However, we also understand that more and more people are becoming concerned about the harsh chemicals used in conventional carpet cleaning products, which is why we offer non-toxic carpet cleaning services as an alternative. If you have questions about these services, we encourage you to keep reading to find the answers you are looking for.
Are conventional carpet cleaning methods really that bad?
The chemicals used in conventional carpet cleaning products are quite harsh, and they can become trapped in your carpet's fibers, which means you and the other members of your household can continue to breathe them in long after the carpet has dried. While how much these chemicals impact you will depend on your individual sensitivity, we feel it's best to err on the side of caution, which is why we offer our non-toxic carpet cleaning services.
What products do you use for non-toxic carpet cleaning services?
The cleaning products that we use in our non-toxic carpet cleaning services are USDA bio-base certified, as well as Green Seal certified, which means they do not contain any harsh chemicals that could potentially harm you, your family, or your pets. In addition, we use a low-moisture cleaning method that will dry much faster than the steam method used in standard carpet cleaning and help prevent mold from growing in your carpet fibers.
What types of carpets can your methods be used on?
Our non-toxic carpet cleaning methods can be used on all types of carpets and rugs, as our cleaning products are all-natural and will not have any negative interactions with your carpet fibers.
---
At Green Steps Carpet Care, we offer non-toxic carpet cleaning services in Wilmington, Southport, Sunset Beach, Ocean Isle Beach, Carolina Beach, Holly Ridge, Leland, Hampstead, Sneads Ferry, Topsail Beach, Surf City, Figure Eight Island, Maple Hill, Supply, Shallotte, Calabash, Rocky Point, and Burgaw, North Carolina.