Get a quality and thorough office carpet cleaning through our experts.
Office carpeting needs to be tough and durable. Many offices enjoy carpeting because it keeps noise levels to a minimum and is easy to clean. If you have office carpeting that is getting a little stained or needs a maintenance cleaning, our team here at Green Steps Carpet Care would like to help you with our office carpet cleaning services. Here in the Wilmington, North Carolina area, we clean many different types of commercial properties, including offices, and we would love to help you.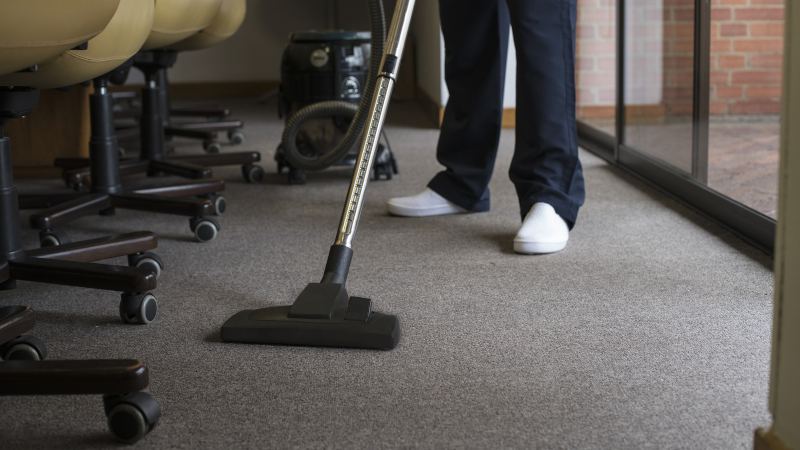 Our office carpet cleaning services are unlike other carpet cleaning services out there. We utilize a special very low moisture (VLM) method that comes with many advantages. First, the dry time is significantly lower. This is especially convenient if you manage an office that has many people working in it or if there is little downtime available for the cleaning process. Second, our office carpet cleaning process is environmentally friendly. With very little water used and eco-friendly chemicals that break down dirt and grime, this cleaning service is effective as well as kind to the environment. Finally, our office carpet cleaning services are very safe. We utilize non-toxic chemicals, making it a great service for people who are sensitive to cleaners or scents.
If you are looking for experts who can help with your office carpet cleaners, look no further than our wonderful team. We have plenty of experience that can give you the quality clean you need at an affordable price. For more information, please contact us today.
FAQs About Office Carpet Cleaning
At Green Steps Carpet Care, we are always pleased when our commercial customers have questions about our office carpet cleaning services. We love sharing our knowledge and helping you gain confidence that you've chosen the right company to take care of your office's carpeting. Here are a few of the most common questions we have been asked over the years, but feel free to reach out with any others you might have about office carpet cleaning.
Is your office carpet cleaning process safe for my commercial carpeting?
Absolutely! Our process does not add hot steam that stresses the carpeting, nor do we use harsh chemicals that can destroy the fibers and color. Not only is our process safe for your carpeting, but it will actually extend its functional life.
Do you move the computer desks and other heavy furniture?
We will move most light furniture at no additional charge, but we do not move heavy furniture such as full bookshelves, nor do we move computer desks. We will work around them unless you hire a moving company that is trained and experienced with moving those items.
Does your office carpet cleaning process remove all stains?
We have a very good track record for removing stains, but some stains can be permanent. We will do our best to lighten stains if we cannot remove them while taking care not to damage the carpet itself. The good news is that spots won't wick back with our methods as they often can with wet cleaning processes.
---
At Green Steps Carpet Care, we offer office carpet cleaning services in Wilmington, Southport, Sunset Beach, Ocean Isle Beach, Carolina Beach, Holly Ridge, Leland, Hampstead, Sneads Ferry, Topsail Beach, Surf City, Figure Eight Island, Maple Hill, Supply, Shallotte, Calabash, Rocky Point, and Burgaw, North Carolina.