Green carpet cleaning refers to our pledge to use ONLY Green Seal Certified and USDA bio based certified products, as well as water-saving techniques.
We are going to venture to guess that you didn't arrive on this page because you have green-colored carpet that needs cleaning. That's good because although we could happily clean your green carpets here at Green Steps Carpet Care, in this case, green carpet cleaning refers to our pledge to use ONLY Green Seal Certified and USDA bio based certified products when cleaning carpeting in the Wilmington, North Carolina area.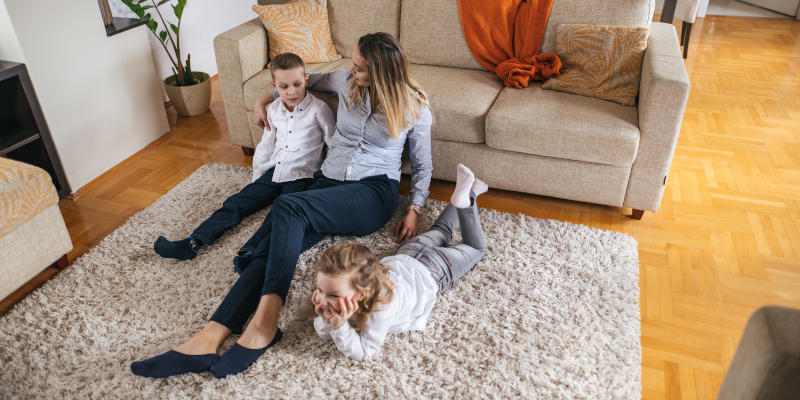 It also refers to our VLM (very low moisture) and dry (waterless) carpet cleaning methods that conserve one of our planet's most precious resources: water! According to an industry estimate, there are about 200 billion square feet of carpet in the United States. Cleaning all of this carpet just once with the methods we use would save over 9.7 billion gallons of water. That is enough water to:
Fill 195 million standard bathtubs
Flush a 1.6-gallon toilet more than 6 billion times
Sustain over 53 million people for one year or over 670,000 for their lifetimes
The typical carpet steaming process uses more than 6.5 gallons of water per 500 square feet of carpet and leaves almost 2 gallons in the carpet. Our VLM method uses only 2.5 gallons for an entire 3-bedroom home with living room with next to no water left behind. Our dry carpet cleaning uses only one teaspoon per square foot.
We feel that it is important to take care of our planet in as many ways as possible. In addition to saving water, we believe we are doing our part by using only sustainable cleaning products that meet green chemistry standards. If you would like to know more about our green carpet cleaning services for your home or business, don't hesitate to reach out to us.
FAQs About Green Carpet Cleaning
At Green Steps Carpet Care, our customers are constantly asking questions about what green carpet cleaning is and why it might be the best option for them. While we are always happy to answer your specific questions, we thought we would share a few of the most common ones that our Wilmington, North Carolina customers ask us.
Is your green carpet cleaning process safe for my children and pets?
Absolutely! Not only are the products we use devoid of harsh chemicals that can bother people and pets, but the quick dry benefit also avoids mold spores, which are unhealthy. In addition, the removal of dust mites and other allergens is a plus for allergy sufferers. That's a total win-win in our book, and we bet you would agree!
Does your process remove all stains?
There are some permanent stains that can never be removed, but in many cases, they can be lightened so they are not as noticeable. Once our technician looks at the stain and the situation, they can advise you about the likelihood that the stains can be removed successfully.
Can you give me an estimate for green carpet cleaning over the telephone?
There are too many factors involved in cleaning carpets to be able to give you an accurate estimate without seeing your carpeting. Keep in mind that if you do get a super-low quote from a company over the phone, that is often a good indication you'll get poor service and not be happy with the results.
---
At Green Steps Carpet Care, we offer green carpet cleaning services in Wilmington, Southport, Sunset Beach, Ocean Isle Beach, Carolina Beach, Holly Ridge, Leland, Hampstead, Sneads Ferry, Topsail Beach, Surf City, Figure Eight Island, Maple Hill, Supply, Shallotte, Calabash, Rocky Point, and Burgaw, North Carolina.
Similar Services We Offer: