Let us do your commercial carpet cleaning.
Because carpet enhances the appearance of the work environment, many companies spend a lot of money on carpeting for areas such as office space, retail space, hotel rooms, and reception areas.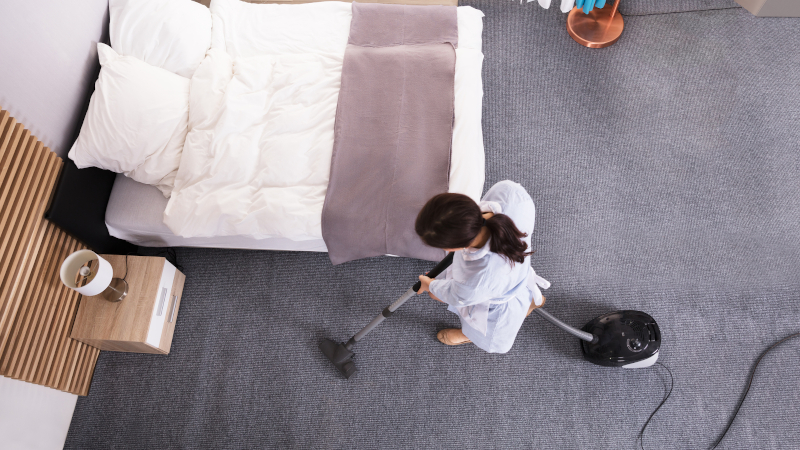 While bringing a warmth and beauty to your commercial space, carpet also traps dirt, allergens and other air pollutants and without proper commercial carpet cleaning, carpeting can begin to look dirty and discolored.
At Green Steps Carpet Care, we understand that you want to protect your investment and provide a clean and healthy environment for your customers and employees. That's why we use only Green Seal Certified and USDA bio-based certified products, which means our carpet cleaning solutions are free of harsh chemicals. The commercial carpet cleaning solution we use is safe and non-toxic and the low moisture cleaning process helps eliminate the risk of mold and mildew growth by allowing carpets to dry quickly with minimal interference to your business activities. By having commercial carpet cleaning done on a regular basis, you will reduce the effects of wear on high-traffic areas, restore the original appearance and texture, and extend the life of your carpet.
Our highly trained technicians use state-of-the-art equipment, and our entire team is committed to providing you with superior results. Using high quality, environmentally friendly products and a low moisture cleaning method, we can help preserve the original appearance of your carpet. We would appreciate the opportunity to prove how well our process can clean your commercial carpets in Wilmington, North Carolina. If you are interested in commercial carpet cleaning, please give us a call today!
Frequently Asked Questions Regarding Our Commercial Carpet Cleaning Services
There are many commercial spaces that have commercial carpeting. Carpeting is a great option for a variety of spaces because it is durable, softer underfoot, keeps noise down and helps to insulate a property. However, carpeting can also succumb to the everyday dirt that is tracked in with foot traffic, and keeping it clean is important. Here at Green Steps Carpet Care, we want to help you get the most out of your commercial carpets and offer wonderful commercial carpet cleaning services for your benefit. Here are a few of our most frequently asked questions (FAQs) regarding commercial carpet cleaning:
What type of cleaners do you use?
Our cleaners are eco-friendly ones that are Green Seal Certified and USDA bio-based products. These types of cleaners are both safe and effective.
Do you offer estimates over the phone?
No. We offer a free, onsite evaluation to properly determine your square footage and give you an accurate price. We do not believe in bait-and-switch pricing options and want to give you an accurate quote up-front.
What if spots that were cleaned return?
We offer a 30-day guarantee on spots that we were able to remove. If they return within that timeframe, we will return for additional treatments free of charge.
Can you move furniture?
We offer light furniture moving, but we will not move large items like bookshelves, entertainment centers, desks, pool tables or other heavy furniture and electronics.
How long is the dry time?
Immediate! Because we use so little water, we are able to complete our work quickly and with no dry time for you to wait out. This is especially convenient for commercial properties.
We hope that these questions and answers have been helpful. If you have additional questions or would like to schedule a no-obligation quote, please contact us today.
---
At Green Steps Carpet Care, we offer commercial carpet cleaning services in Wilmington, Southport, Sunset Beach, Ocean Isle Beach, Carolina Beach, Holly Ridge, Leland, Hampstead, Sneads Ferry, Topsail Beach, Surf City, Figure Eight Island, Maple Hill, Supply, Shallotte, Calabash, Rocky Point, and Burgaw, North Carolina.